Skip to Main Content
It looks like you're using Internet Explorer 11 or older. This website works best with modern browsers such as the latest versions of Chrome, Firefox, Safari, and Edge. If you continue with this browser, you may see unexpected results.
Request a Book
Found something we don't have?
Request it and we'll buy it for you!
We'll even send you an email when it arrives. All we ask is that you write a review saying what you thought about it once you've finished.
Blog and Newsletters
December 2021 - PRC Winners Luncheon


Our Premier's Reading Challenge champions for 2021 - 9E - enjoyed their Pizza Luncheon prize last week. Well deserved 9E for an amazing engagement with reading this year!
December 2021 - LRC Re-Location


This week, the LRC re-opened in it's new home in room K107. We will be operating in K107 until the renovation of Lakeside building is complete (estimated term 4 next year). It's a little bit cosy but we still have all the learning resources you know and love. So come by and borrow a book or ten (Holiday borrowing has begun!)
August 2021 | LRC Newsletter #002
August 2021 - Miles Franklin and Readings YA Winners


The winners of two major literary prizes have been announced. The winner of the 2021 Miles Franklin is The Labyrinth by Amanda Lohrey. The winner of the Readings Young Adult Book Prize for 2021 is Future Girl by Asphyxia. For more information about literary awards see our Award-Winning Books page.
August 2021 - Poetry Month


August is Poetry Month and to celebrate it we've put on a display of great poetry collections, showcasing a diverse range of classic, modern and contemporary poetry from Australia and the rest of the world. For more information about Poetry Month and associated events see here.
June 2021 - Readings Young Adult Book Prize


The shortlisted books from the 2021 Readings Young Adult Fiction Book prize arrived this week and are out on display in the library, just in time for holiday borrowing. For more information about the Readings prize and the shortlisted books see here.
May 2021 | LRC Newsletter #001
Here is the very first Learning Resource Centre (LRC) newsletter. The LRC newsletter will be a visual guide to what's new in the library's physical and digital collections and will showcase the best of the new books and databases available in the LRC.
The first edition is for Autumn, with two more reading guides to come later this year for Winter and Spring.
Have a browse and swing by the LRC if any of these books take your fancy.
May 2021 | Women's Prize Shortlist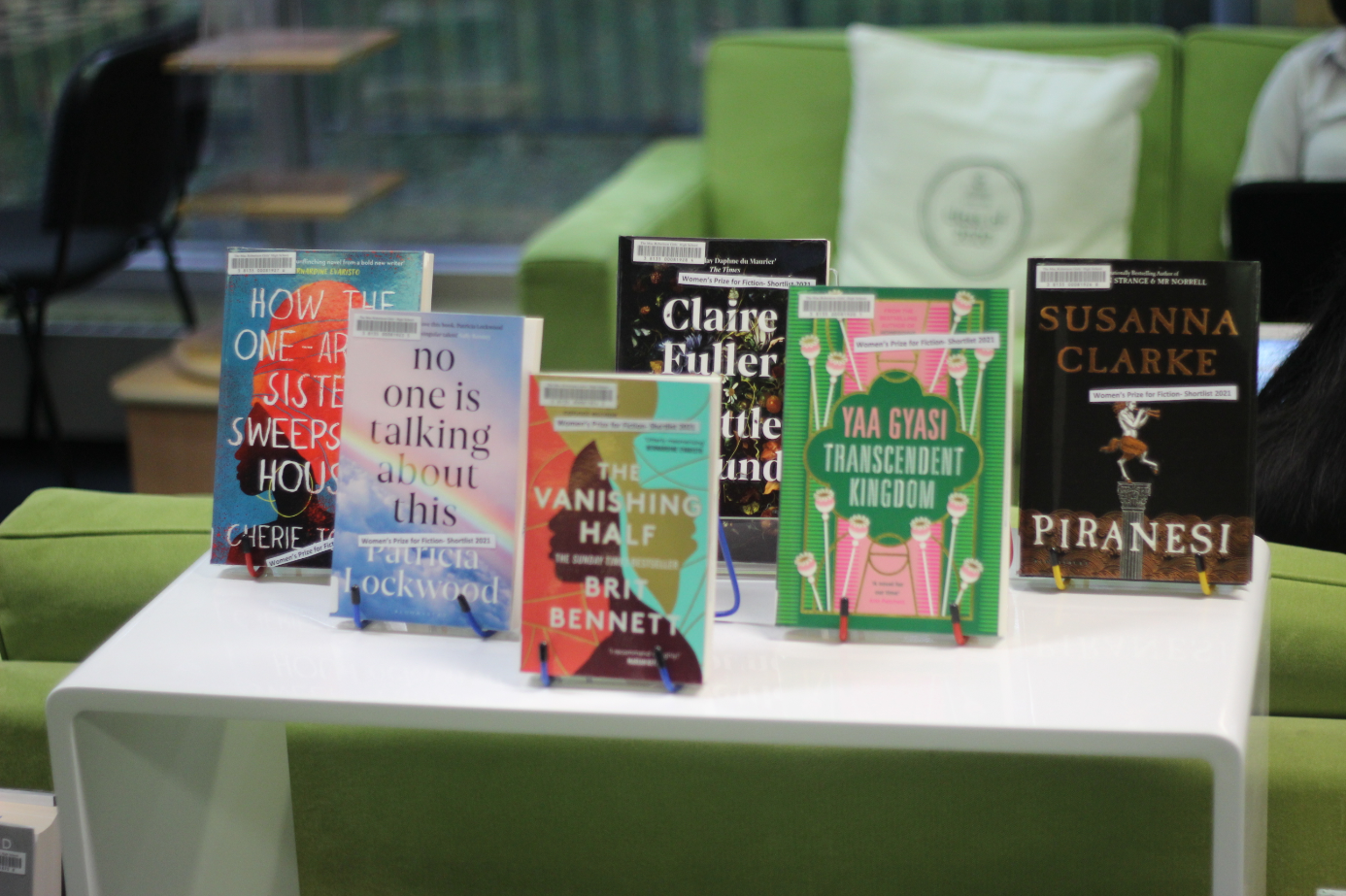 The Women's Prize shortlist is in, and we have all of the books available for loan in the LRC. So pop by and read some of the best books written by women in the last year.
May 2021 | Tyson Yunkaporta Author Talk


Our first author talk for 2021 will be Tyson Yunkaporta, author of Sand Talk: How Indigenous Thinking Can Save The World.
April 2021 | New Books


We've got some great new books by Rupi Kaur, Michelle Obama, Lynette Noni, Ellie Marney, Lady Gaga, Adam Silvera, as well as beautiful new editions of the Frank Herbert classic Dune.
April 2021 | Stella Prize Longlist


The Stella Prize is an award for outstanding fiction or non-fiction written by an Australian woman. We have all 12 Stella Prize longlisted books on display at the moment, so pop by and have a browse!
March 2021 | PRC Captains 2021


Last week we had a meeting with the new PRC captains to discuss the launch of the Premiers Reading Challenge for 2021. The captains were awarded their badges and given some advice on how to get their classmates set up for the competition. Last year 9J took the honours. Which class will triumph in 2021? The attached photo shows the Year 9 PRC captains. The captains from left to right in the back row are Jess Purnama (9H), Siyun Gu (9K), Meg Abburi (9E), Jana Smith (9J), Muyu Li (9C), Setereh Samadi (9B). In the front row, there is Caitlin Arcena (9A), Shakkthy Thayaparan (9G), Ellawen Griffin (9F), Sanika Trivedi (9L) and Narmatha Abarajitha (9D). Absent from the photo is Babette Dao (9I).
March 2021 | Book to Film/TV Display


There's lots of great book to movie/TV adaptations coming out at the moment. We've got the original book versions of recent Movie/TV series such as Good Omens, Normal People, The Dry, Dune & the Queen's Gambit. Pop in to borrow one today.
March 2021 | New Books


Lots of new books flowing into the LRC at the moment. We have award winners, new fantasy series, and some groundbreaking non-fiction books. Keep an eye on our New Books displays over the next few weeks as more new releases come in!
February 2021 | New Checkpoints


The new Cambridge Checkpoints have been processed and are ready to borrow from the LRC. Thanks to Ms. Cain for her awesome job cataloguing and processing the books and to Mr. Gurciullo for sourcing them.
February 2021 | Information Literacy Classes


Mr. Gurciullo has been very busy over the last two weeks inducting the new Year 9s to the LRC and introducing them to the concepts of information literacy and effective research. It's been great to meet the new Year 9s and we hope this sets them up to effectively use the library over the four years of their time here.
February 2021 | Back To School
Welcome back Mac.Rob! The books are flying through the Returns chute and it look's like we've got a lot of shelving to do. All students (new year 9s included) will be able to start borrowing from tomorrow. If you've still got loans out from the holidays, please return them in the next few days.
November 2020 | Literary Wonderlands


Novelists have created some amazing imaginary worlds over the years, which we've paid tribute to in our new Literary Wonderlands display. These books all take us somewhere extraordinary, to fantastical realms, mythic kingdoms, dystopian futures, and sci-fi metropolis'. So pop by and go on a literary adventure this summer!
November 2020 | Premier's Reading Challenge 2020


Earlier this week we announced the winner of the 2020 LRC Premier's Reading Challenge Competition. Our year 9 students were able to produce highly creative responses to their reading, and engaging peer to peer book reviews. Normally, we would share these responses in the form of a 'Literary Wall' in the LRC foyer, however due to being in lockdown we achieved this digitally via a Google site. The winners this year were 9J, who produced an excellent array of reviews and creative responses. Each member of 9J has received a book voucher as a prize and we have also awarded 15 book vouchers to the best individual efforts across the whole of year 9. Congratulations to all year 9 students!
November 2020 | Stella Sparks - Writing For Self Care

In September this year 38 Mac.Rob students took part in the Stella Sparks 'Writing For Self Care' workshop hosted by Evelyn Araluen. Pakhi Adtani (10J) and Prabavi Ranchagoda (9L) summarised their experiences in a Mac.Rob newsletter article, saying "It made me so happy to just grab a notepad and physically write (not 'clickety-clack' on my computer), not just for a school assesment but simply for myself. Being someone who doesn't call herself a frequent writer, we're so glad we attended this program as it was very valuable, especially mid-isolation". We're glad to have been able to provide this program for students, and look out for more Stella Schools workshops next year!
October 2020 | Non Fiction Renewal

This year we have been working hard renovating our Non-Fiction section. More of our books are front-facing, there is less clutter and it's easier to find things. If you haven't had a look yet, swing by and check out the new look Non-Fiction section. It's still a work in progress but we've definitely come a long way with it!
October 2020 | Rebecca Lim


Look out for an upcoming author talk by Rebecca Lim!
Created by Michelle De Aizpurua