Skip to Main Content
It looks like you're using Internet Explorer 11 or older. This website works best with modern browsers such as the latest versions of Chrome, Firefox, Safari, and Edge. If you continue with this browser, you may see unexpected results.
Request a Book
Found something we don't have?
Request it and we'll buy it for you!
We'll even send you an email when it arrives. All we ask is that you write a review saying what you thought about it once you've finished.
Blog and Newsletters
October 2022 | Halloween Display


Readers beware, you're in for a scare! Try one of these horror books for Halloween.
July 2022 | Winter Reading Guide
June 2022 | Holiday Borrowing


Holiday borrowing begins today for all collections except the VCE collection. Non-Fiction, fiction, magazines, DVDs etc are all able to be borrowed from today and kept until Monday the 11th of July Term 3. VCE items for holiday loans will begin at 8:00am on Wednesday 22nd of June.
June 2022 | National Reconciliation Week


This week is National Reconciliation week. The 2022 theme, "Be Brave. Make Change." is a challenge to all Australians— individuals, families, communities, organisations and government—to Be Brave and tackle the unfinished business of reconciliation so we can Make Change for the benefit of all Australians. Supporting this week, we've put together a display and digital list of some of the best books by First Nations authors. See the list here.
May 2022 | Feminist Friday


As part of SRC week, the student leaders organised 'Feminist Friday' - a special day to celebrate feminist ideas and women empowerment. To support them, the LRC team put together a display of some great feminist reads. See the list of feminist reads here.
May 2022 | IDAHOBIT Day


Next Tuesday, Mac.Rob is celebrating IDAHOBIT (International Day Against Homophobia, Biphobia, Transphobia). We have put together a display of great LGBTIQ+ library books to mark this special occasion.
May 2022 | Colleen Hoover


Colleen Hoover is a literary sensation for the TikTok generation. Her books are heartbreaking love stories with gripping twists. Come and see what all the fuss is about, and borrow or reserve one of these books from the LRC.
March 2022 | Autumn Reading Guide
March 2022 | New LRC Team


Here is the new LRC team for 2022. We have some familiar faces in Mr Gurciullo and Mr Jach, but we are thrilled to announce a new team member: Camille Thomas. Camille will be working in a library technician role three days a week. Please make them feel welcome!
March 2022 | New Fiction


There are so many great new reads in the LRC, including Victorian Premier's Literary awards winners Black and Blue: A Memoir of Racism and Resilience and Rebecca Lim's young adult novel Tiger Daughter. Come by the LRC today to check them out!
March 2022 | New Atar Notes


Lots of new 2022 Atar Notes study guides. Swing by K107 and check 'em out!
February 2022 - New Books


Here are some of the new books we've got in the library. New fiction, young adult, school texts and poetry. And there's more where that came from! Pop by K107 to browse our selection of new titles.
February 2022 - Readings Teen Advisory Board


Readings bookshop is looking for keen readers of young adult fiction, aged 14-19, to join it's teen advisory board. See here for more details.
February 2022 - New Checkpoints


The 2022 Checkpoints have arrived! Drop by the LRC (Now in K107) with your student card to borrow.
December 2021 - PRC Winners Luncheon


Our Premier's Reading Challenge champions for 2021 - 9E - enjoyed their Pizza Luncheon prize last week. Well deserved 9E for an amazing engagement with reading this year!
December 2021 - LRC Re-Location


This week, the LRC re-opened in it's new home in room K107. We will be operating in K107 until the renovation of Lakeside building is complete (estimated term 4 next year). It's a little bit cosy but we still have all the learning resources you know and love. So come by and borrow a book or ten (Holiday borrowing has begun!)
August 2021 | LRC Newsletter #002
August 2021 - Miles Franklin and Readings YA Winners


The winners of two major literary prizes have been announced. The winner of the 2021 Miles Franklin is The Labyrinth by Amanda Lohrey. The winner of the Readings Young Adult Book Prize for 2021 is Future Girl by Asphyxia. For more information about literary awards see our Award-Winning Books page.
August 2021 - Poetry Month


August is Poetry Month and to celebrate it we've put on a display of great poetry collections, showcasing a diverse range of classic, modern and contemporary poetry from Australia and the rest of the world. For more information about Poetry Month and associated events see here.
June 2021 - Readings Young Adult Book Prize


The shortlisted books from the 2021 Readings Young Adult Fiction Book prize arrived this week and are out on display in the library, just in time for holiday borrowing. For more information about the Readings prize and the shortlisted books see here.
May 2021 | LRC Newsletter #001
Here is the very first Learning Resource Centre (LRC) newsletter. The LRC newsletter will be a visual guide to what's new in the library's physical and digital collections and will showcase the best of the new books and databases available in the LRC.
The first edition is for Autumn, with two more reading guides to come later this year for Winter and Spring.
Have a browse and swing by the LRC if any of these books take your fancy.
May 2021 | Women's Prize Shortlist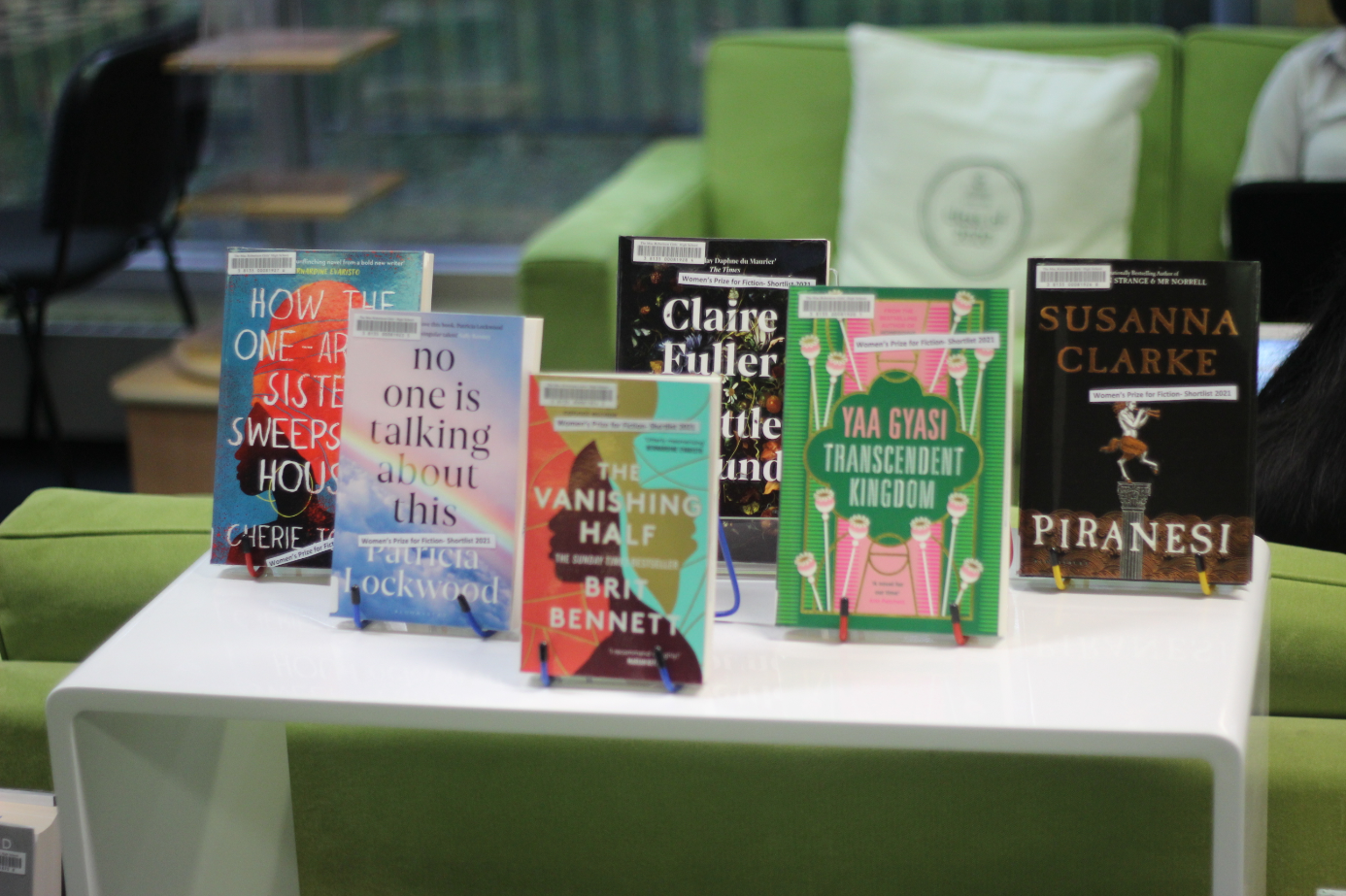 The Women's Prize shortlist is in, and we have all of the books available for loan in the LRC. So pop by and read some of the best books written by women in the last year.
May 2021 | Tyson Yunkaporta Author Talk


Our first author talk for 2021 will be Tyson Yunkaporta, author of Sand Talk: How Indigenous Thinking Can Save The World.
Created by Michelle De Aizpurua